It strikes me as darkly humorous that we, the most intelligent species ever to have evolved on earth, homo sapiens (evolved circa 190,000 years ago), were so clever that around 1750 we started burning so much wood, coal and later on oil and natural gas that we started changing our own climate so much that it may threaten our survival. And, in a new scientific report, scientists hair is on fire, and they are warning us as vehemently as these polite researchers know how that we have to be net zero carbon by 2050, and we have to jump on getting there RIGHT NOW, during the next decade. Or else, Very Bad Things will happen.
We have to go to war, folks. This challenge is like when Hitler took over all of mainland Europe and the US geared up to go defeat him. The climate crisis is also a genocidal maniac.
The IPCC report says that if we push the global average surface temperature of the earth up only by about 2.7 degrees F. (1.5C), it will be *much* better than if we push it up to 3.6 F. (2 C.) or more (and it can go up 10 degrees F. if we really want it to). Remember, we are talking about an average increase of 3.6 degrees F. That includes the surface of the oceans, which is cold, and the two poles, etc. So in Alabama or Arizona, it will be *way* more than a 3.6 degrees F. increase.
The difference between a 2.7 degrees increase and 3.6 could be 4 inches that the seas dont rise. Four inches dont seem like that much, but if you live in Palm Beach it is the difference between your house flooding or not.
The IPCC says that coral reefs would decline by 70-90 percent with global warming of 2.7 degrees F., whereas virtually all (more than 99 percent) would be lost with a 3.6 degrees F. increase. Coral reefs are where fish hide from predators and multiply and feed. They also help protect coasts from storm surges. You need coral reefs way more than you know and it is better NOT TO KILL THEM ALL.
Here is a graphic from Carbon Brief that shows the difference: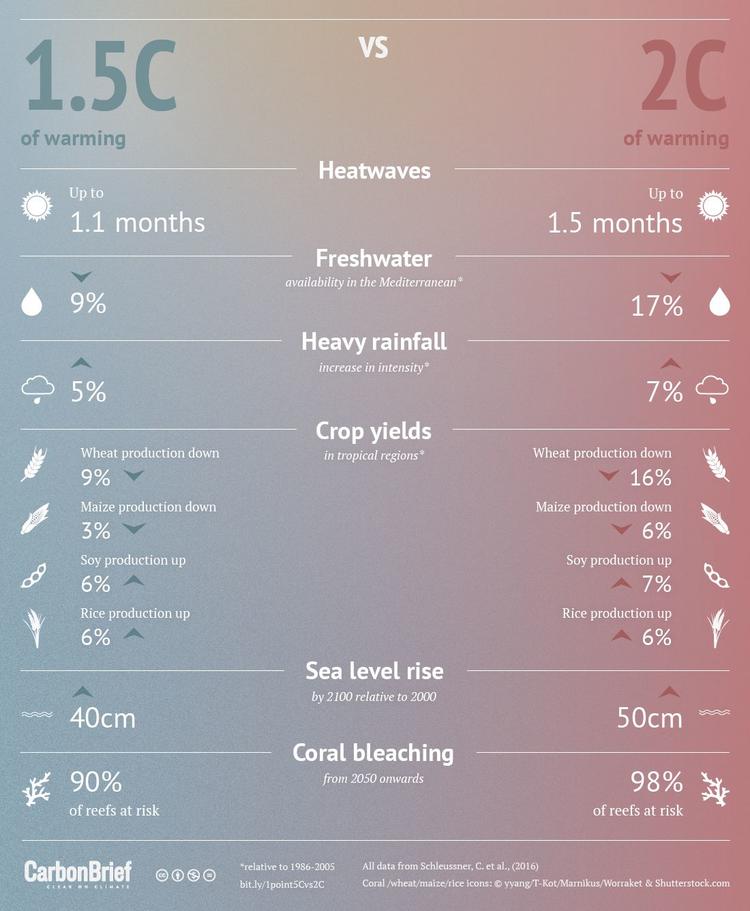 The IPCC press release says, Every extra bit of warming matters, especially since warming of 1.5 C or higher increases the risk associated with long-lasting or irreversible changes, such as the loss of some ecosystems, said Hans-Otto Prtner, co-ch...